Sometimes well-intended recommendations of hair and beauty products from friends, family and influencers can leave you unsure about investing in a full size, not yet knowing if this product will actually work for you. We agree!
Purchasing professional hair care is a commitment, a relationship if you will – the connection that encourages you to close your eyes in the shower and feel completely surrounded by the steaming aroma. We want to ensure that the products you choose are the best for your hair and that you love them just as much as we do.

Sample sachets are a great way to trial different products and product combinations before committing to the full-sized versions. At Ethical Brand Co we are pleased to offer our customers sample sachets across our entire range of EverEscents and Clever Curl hair care products. We also encourage our amazing salon stockists to have sample sachets available in their salons and offer these to clients looking to try a new range or take the leap into vegan, ethical, cruelty free haircare.
Sample Sachets are available in both our EverEscents Organic Hair Care and Clever Curl ranges. Our in-house product specialists will always encourage you trial as many products as you like and mix and match combos too, just as your hairdresser would.
The EverEscents Sample Sachets are also new and improved! These Eco-friendly sample sachets are sturdier than ever being 100% re-usable and recyclable through REDcycle Systems Australia.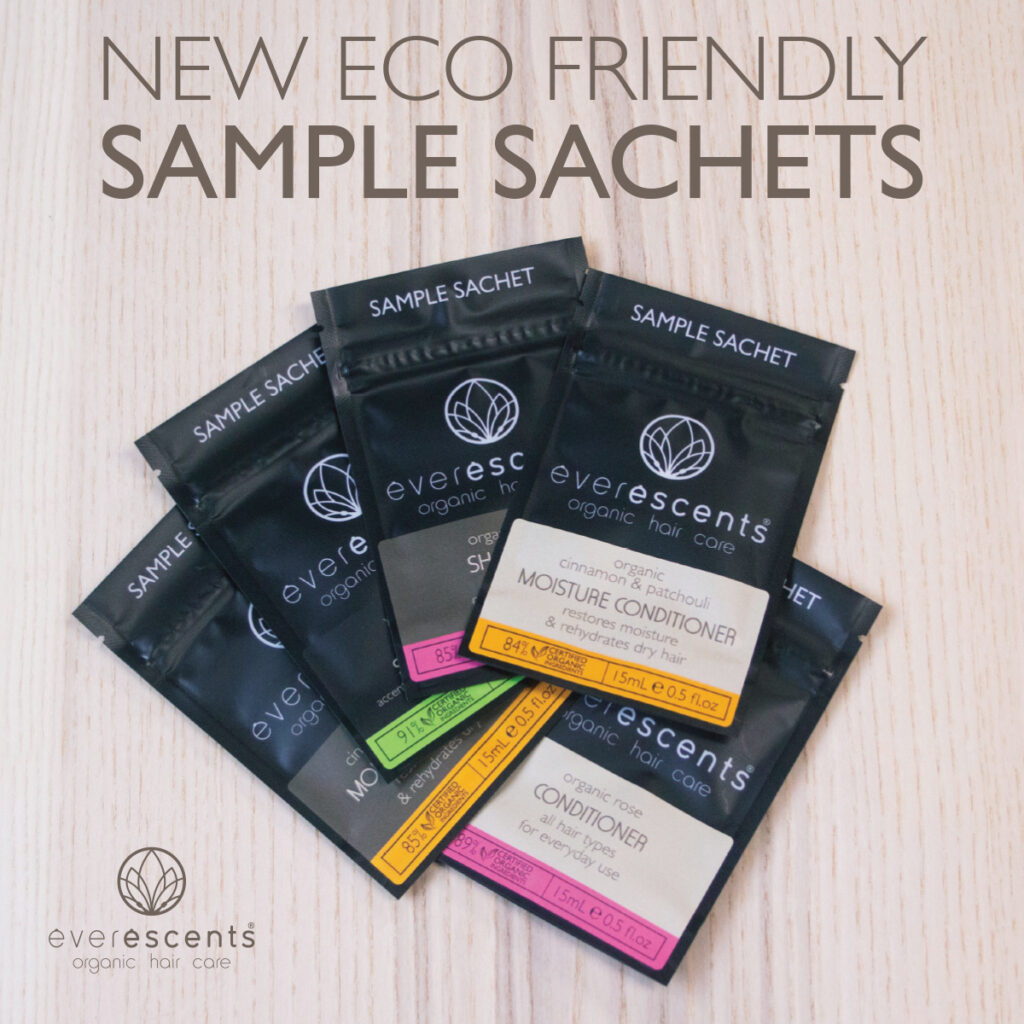 The sachet pouches are made from recyclable, washable and re-useable LLDPE (Linear low-density polyethylene) which are 100% recyclable through the REDcycle Systems Australia. The EverEscents sample sachets are designed to allow you to try our products, testing the performance and quality for your hair and scalp. These sachets also allow you to patch test on your skin for sensitivities or allergies that you may have too. We want to ensure that you get a good feel for how the product will improve the health of your hair!
Our EverEscents sample sachets should hold enough product for the average head of hair to use twice, however if you have super long or very thick / curly hair you may need two.
The best thing about these sample sachets is that you can take them to your nearest EverEscents stockist to refill them! Making these product samples some of the most eco-friendly on the market.
With EverEscents and Clever Curl sample sachets you can trial, tweak and repeat until you find you ultimate hair care combo.