Christmas is well on the way and what better way to get the festive spirits flowing than by getting acquainted with the exciting new range of Gift Packs Ethical Brand Co are showcasing this year!
Here at Ethical Brand Co we are so excited to offer you our widest range of Christmas gifting ideas EVER.
It should come as no surprise how passionate and proactive we are about doing what we can to reduce the huge increase in carbon footprint that happens each Christmas season.
By presenting our gift packs beautifully we save you the need for extra wrapping and tagging. A great way to cut back on paper wastage and the phenomenal number of trees cut down simply for the purpose of our festive packaging.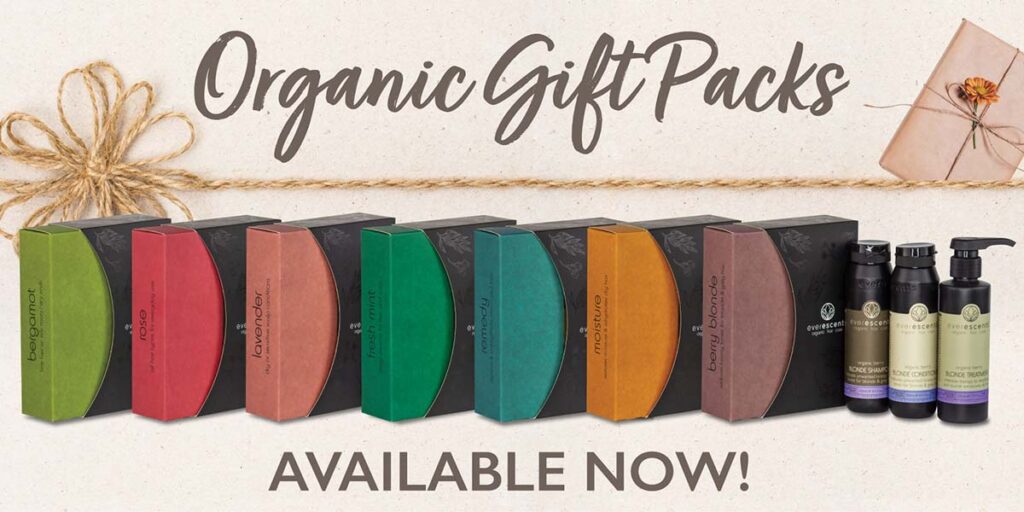 Our luxuriously presented EverEscents gift packs come in recycled brown and coloured card finishes and are packaged ready to go.
Our Organic Packs are all paired with a luxurious bonus 235ml Cinnamon and Patchouli Deep Treatment, with the exception of our Berry Blonde Pack which features a bonus 235ml Berry Blonde Treatment, perfectly complementing all of your favourite EverEscents Shampoo and Conditioner pairs.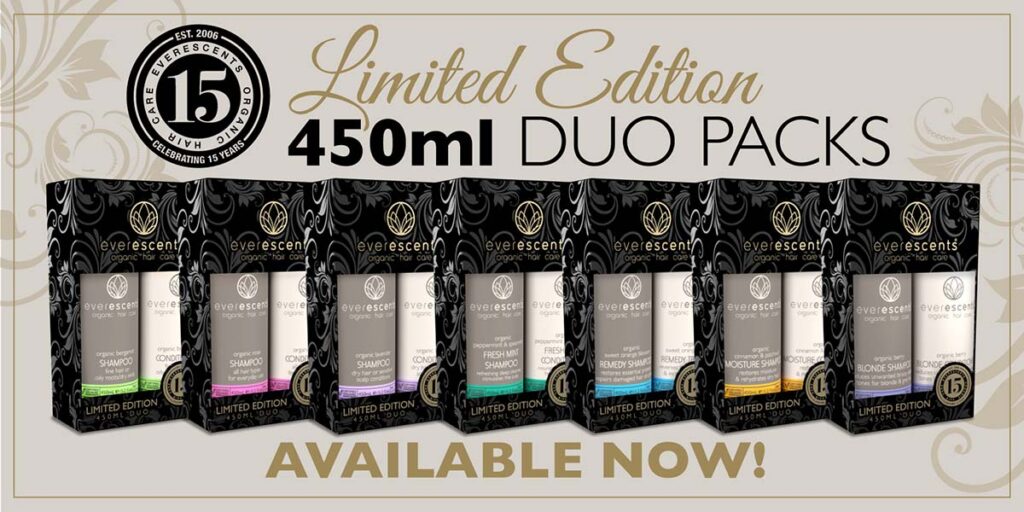 This year, we also proud to offer a limited edition 450ml Duo Pack commemorating EverEscents's 15-years as the leading professional organic brand in Australia. The 450ml packs are extremely cost effective, shower friendly and refillable.
So why not take the guess work out of gifting and deliver personalised haircare to a loved one's door!
Our much-loved range of naturally derived products fragranced with pure essential oils makes them not only effective but also a deeply nourishing and wonderfully therapeutic haircare range. And what better time of year to indulge in a little luxury.
There's something for everyone. .. here's a little reminder!
Our Bergamot Range is the lightest of our formulas, perfectly suited to finer hair types perhaps prone to oiliness at the roots yet still needing nourishment at mid lengths and ends. With its uplifting citrus fragrance, Bergamot acts as a mild astringent keeping oiliness in check while still being super gentle.
Rose Range is a great family favourite as it suits all hair types! Fragranced with Rose Geranium and Rosemary essential oils yet feels like a fresh Wild rose perfume. Super refreshing and cleansing for all hair and scalp types while not being too heavy, even thirsty hair types love the balance and scalp benefits this powerhouse offers.
Lavender needs no introduction. Its versatile and earthy fragrance is loved by many! Organic lavender essential oil has multiple benefits such as lifting low mood and helping sleep, it's also mildly antiseptic so fantastic for soothing dry scalp conditions or mild irritation.
Our Fresh Mint range is clarifying and deeply refreshing. A firm favourite with our short haired fans who may use gels or pomades; they love the deep clean minty freshness of organic menthol, mint, and spearmint essential oils. Curly Girls who like to break up their wash routine with a deeper reaching detox also love refreshing mint.
Remedy Range is the perfect balance of moisture and protein. A good friend of finer haired curlies who may need a gentle protein boost. More specifically designed for nourishment after any kind of chemical service when your hair might be needing some extra love. Sweet orange blossom fragrance gives this star product a light touch that packs a nutrient punch … we love it!
Our famous Moisture Range is fragranced with the much-loved Cinnamon and Patchouli essential oils, evoking warm festive feelings and the aroma of Christmas, Moisture is a firm gifting favorited. Suitable for thick, coarse and thirsty hair and tames the frizziest of curls. This range is super rich and moisturising, leaves the hair smelling divine.
Last but not least, our Berry Blonde Range is the perfect companion for thirsty/ coloured or dehydrated hair needing extra moisture and the gentle toning benefits of our non-synthetic formula achieved using red sweet potato skin and gardenia berries to gently reduce brassiness and maintain blonde and grey hair.
Our EverEscents Gift Packs are available in trios as well as great value 450ml Duos this year, so there's more choice than ever.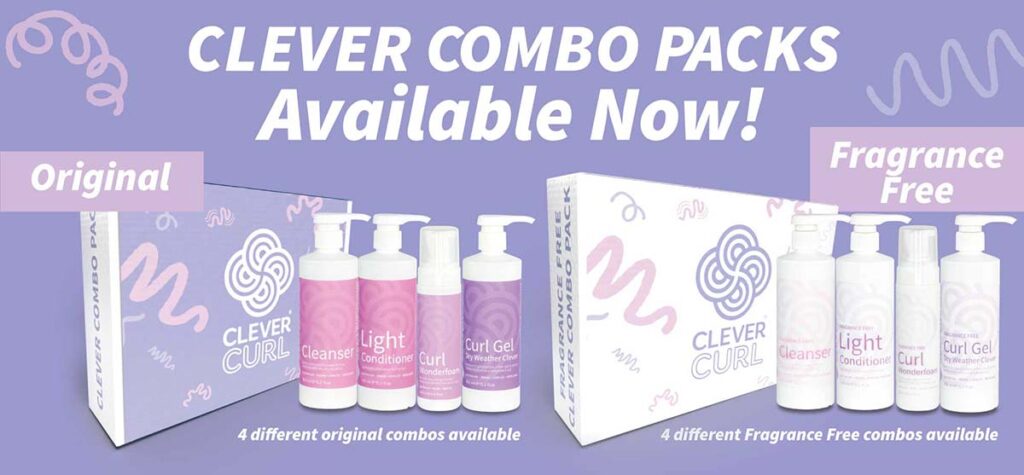 As well as our coveted EverEscents Gift packs, Ethical Brand Co are also extremely excited to be offering our highly anticipated, first ever CLEVER CURL COMBO PACKS!
Available in both Original and Fragrance Free, these carefully curated gift packs are the perfect way to introduce yourself or a loved one to the full range of Clever Curl products best suited to your curl porosity, density and personality!
From the finest of waves to the coarsest of curls there will be the perfect Clever Combo pack made just for you .. Should you need any help choosing the right one hop online or give us a call on our toll-free no. 1300 856 744.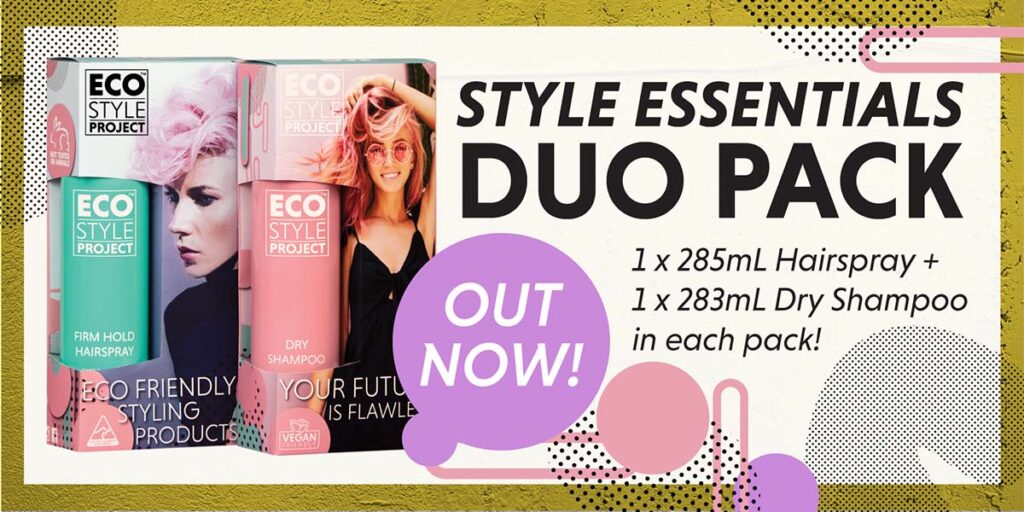 Lastly but certainly not least, we also have our popular Eco Style Project Style Essentials Duo Pack back by popular demand! Each pack features a full sized Dry Shampoo and Hairspray. A winning combination for elite hair and makeup artists and those of us who like our hair texture, volume and hold to be naturally derived and effective.
Both unique styling products are exceptionally clean formulas, our Eco Friendly Dry Shampoo and hairspray both harness the power of certified organic biomass making them not only free of harsh ingredients but reliably high performing too… and did we mention the gorgeous packaging?!
All the packs mentioned are beautifully and ethically packaged to help you make the most of this season's festive cheer. We hope you love them!
So as the decorations start going up and we ready ourselves for a feel good season of friends, family and festive cheer, let's consider sharing more and enjoying time spent with loved ones ..appreciating the simpler and finer things in life!
Packs are now available in salons and online.