Plants and oils have been used for thousands of years as incense and perfumes, and for their culinary, cosmetic and medicinal applications. The first records of Essential Oils came from ancient Indian, Chinese and Egyptian civilizations.
Essential Oils are now used and celebrated all around the world and what a gift they are! Essential Oils can affect us both physically and emotionally and can easily be used in a home in endless ways – both for scent and cosmetic and medicinal purposes.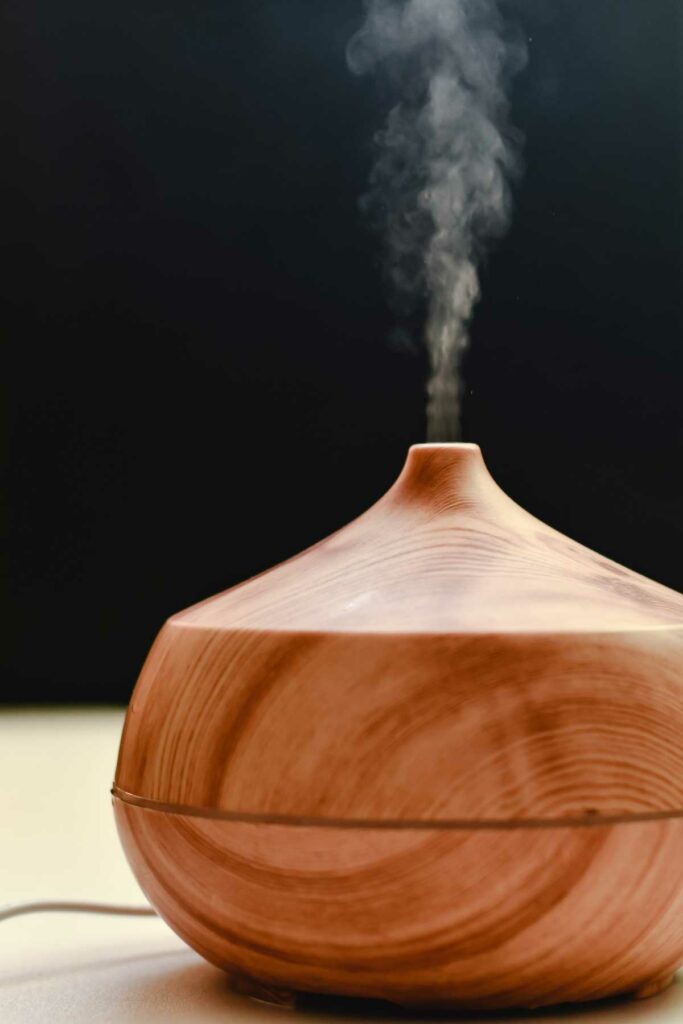 This is the most common way to use Essential Oils. You can diffuse any oil/s you desire, depending on what you're wanting to achieve physically or emotionally. For example, if you are feeling stressed and tense, diffusing Lavender, Bergamot and Patchouli will help to calm and balance your emotions and nervous system. If you are feeling flat and lethargic, diffusing Lime, Lemongrass and Grapefruit will help to uplift and energise. If you're feeling a little downhearted, diffusing Ylang Ylang and Peppermint may help to promote joy and happiness. Or you may just want to choose oils simply because you enjoy their scent!
We recommend 3-4 drops of each chosen essential oil into your diffuser.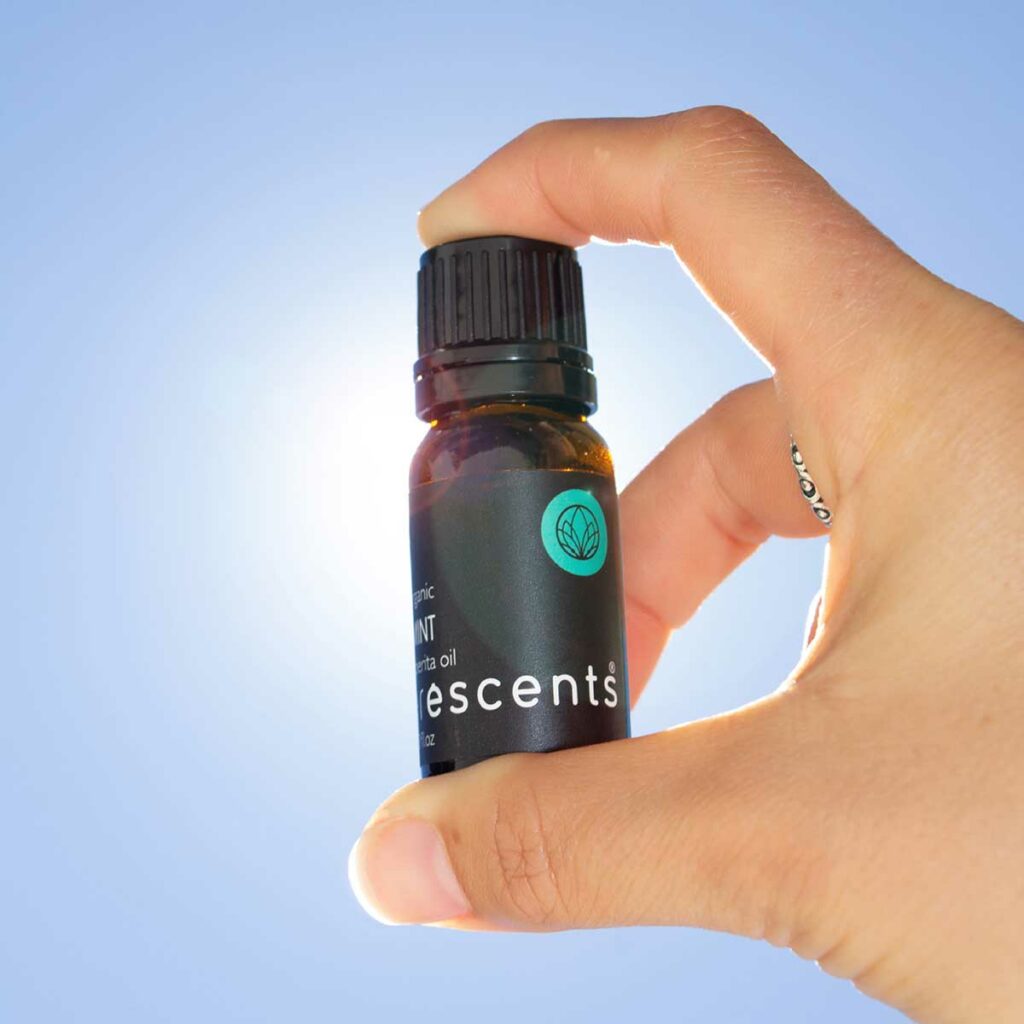 The term aromatherapy was first created in 1928 by a French Chemist Gattefosse. He was captivated with the therapeutic properties of essential oils after accidently discovering that lavender oil was able to speedily heal a severe burn on his hand.  
Many Essential Oils have medicinal properties in one area or another, for example…
A range of essential oils have been found to have antiseptic, antibacterial, antiviral properties, these oils include Lemon, Lemongrass, Lavender, Tea Tree and Eucalyptus.
Peppermint Oil is beneficial for reducing inflammation and headaches and may also support digestion and gut health. Peppermint Oil (in dilution) can be rubbed onto the stomach to ease indigestion or added to a cold compress and applied to the forehead to relieve headaches.
Inhalation of Rosemary Oil has been found to open the lungs and assist with colds and respiratory conditions. Rosemary can be added to a small jar of coconut oil and stored in the fridge – this makes a lovely chest and foot rub for when you have a cold. 
And this is just the tip of the iceberg…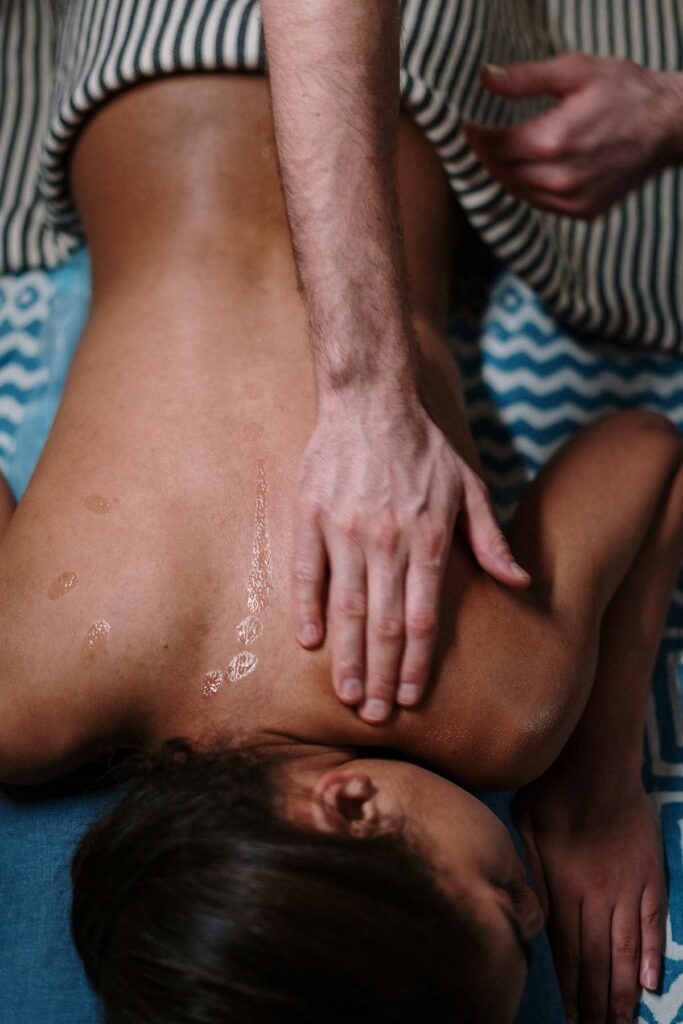 Using essential oils in massage is a favored method by professional aromatherapists, but becoming very popular in many massage, chiropractic, osteopathy and physio clinics. And of course can be performed safely at home as well. Massage is a relaxing, nourishing and beneficial experience in itself, and it becomes even more beneficial when incorporating essential oils.
Here is a little homemade massage oil using EverEscents Organic Essential Oils:
100ml of carrier oil (Jojoba, Sweet Almond Oil, Coconut Oil)
5 drops of Peppermint Essential Oil
5 drops of Geranium Essential Oil
5 drops of Pink Grapefruit Essential Oil
Using Organic Peppermint Oil during massage can promote circulation, relieve fatigue, muscle spasms and muscle tensions. The menthol component in this oil leaves a cool sensation on the skin.
Organic Geranium Oil is known for its relaxing and rejuvenating effects on the body. In traditional medicine, Germanium was said to improve circulation and soothe body pain. Using Geranium Oil in massage is particularly helpful for women during their menstrual cycle or women going through menopause.
Using Organic Pink Grapefruit Oil during massage is said to help reduce fluid retention, help to manage body discomfort and aches, and improve the appearance of cellulite.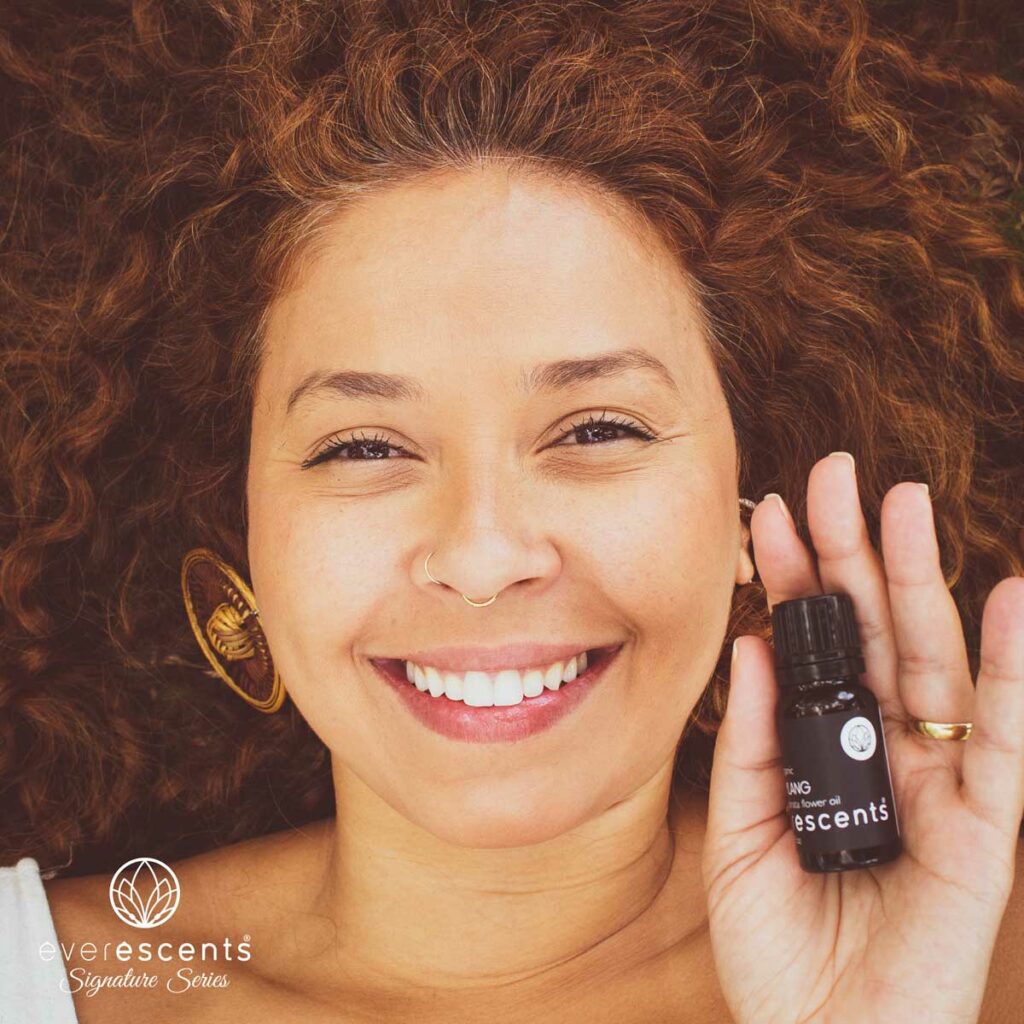 While essential oils have roots in ancient beauty rituals, their popularity continues to increase, especially now that we are much more conscious of what we put in and on our bodies. Below are some EverEscents Essential Oils with serious skin benefits:
Lavender Oil gently moisturises, reduces inflammation, soothes and helps to reduce redness. Lavender Oil is also non-comedogenic meaning it will not block pores, thus being beneficial for acne prone skin. 
Geranium Oil is great for neutralising the effects of too much oil or too much dryness on the skin. It is known to enhance elasticity, encourage softness and smoothness, and promote the appearance of a healthy, glowing complexion.
Yang Ylang is popular for its nourishing and protective properties. It is a common ingredient in skincare due to its potential to regulate oil production and encourage skin and hair regeneration.
Bergamot is a natural astringent that helps to clarify the skin of excess oil. Bergamot is gentle on the skin's barrier and may be beneficial for those suffering from acne, eczema and psoriasis.
To ensure the safety of yourself and your precious skin, these oils must always be diluted before applying to the skin. Pump or scoop a simple (ideally fragrance free) facial cleanser and / or moisturiser into your palm and add 1 drop of chosen essential oil before applying to face. Dilute in a carrier oil (Jojoba, Sweet Almond Oil, Coconut Oil) before applying to the body.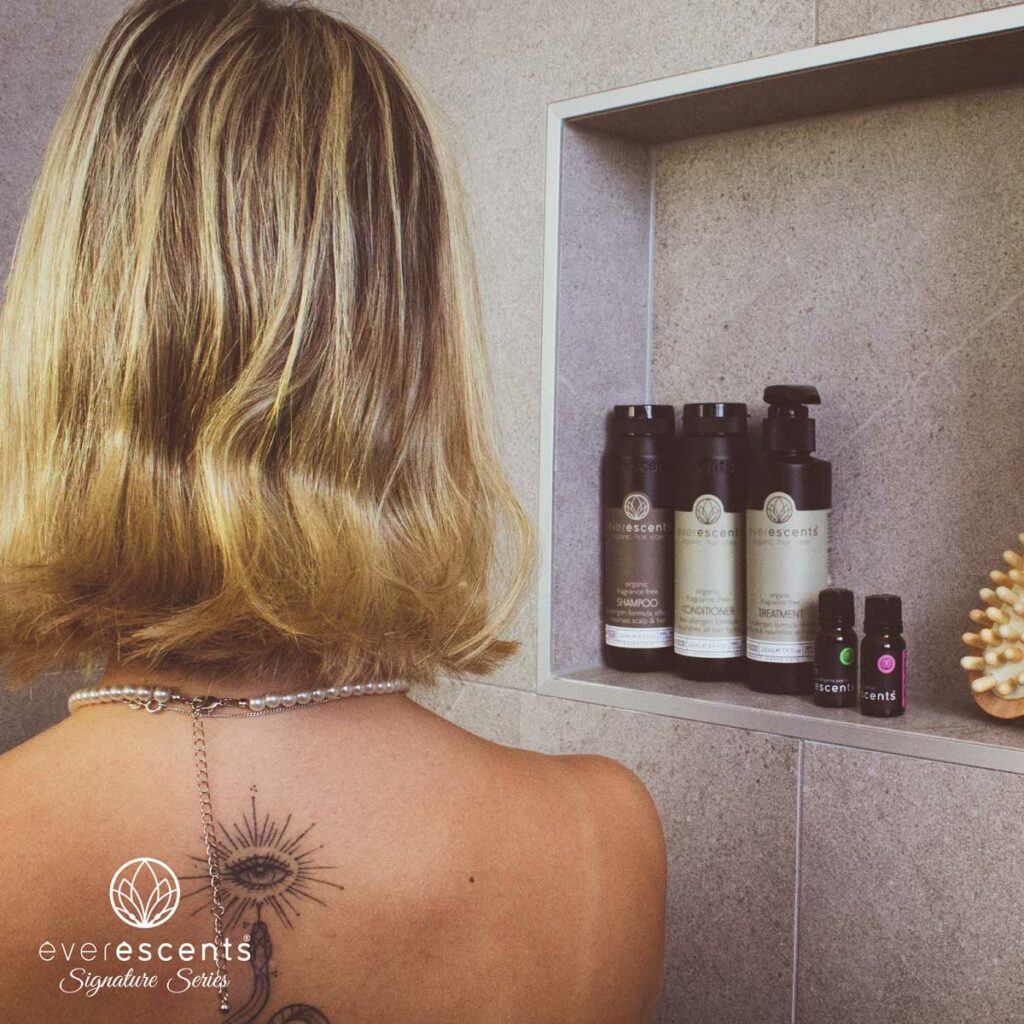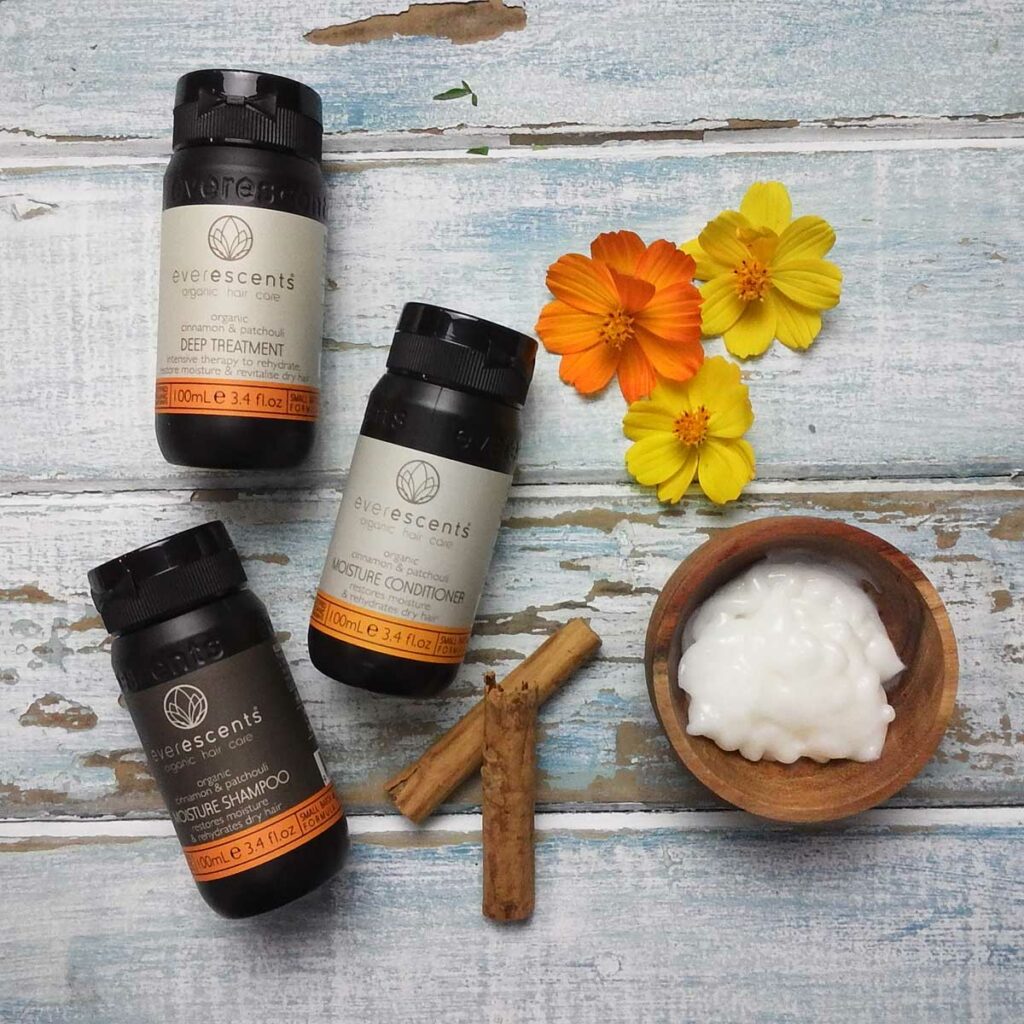 Now this is something we are extremely passionate about! All essential oils carry many different benefits for our hair and scalp and can all greatly improve the health of our hair. We have a range of haircare products suitable for all hair types and are all formulated with all kinds of Certified Organic Essential Oils.
Essential Oils such as Rosemary and Peppermint encourage healthy hair growth; Lavender and Patchouli soothe and help to alleviate dandruff; Bergamot and Lemon clarify; Geranium balances and neutralizes the scalp; Ylang Ylang regulates and regenerates – and again, this is just the tip of the iceberg.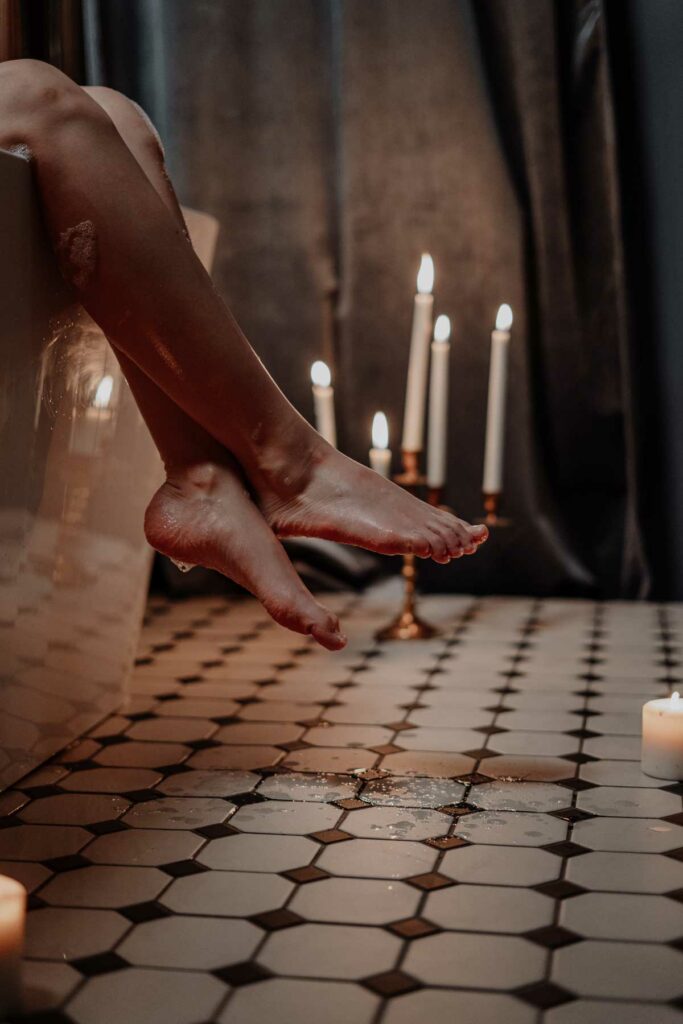 Essential Oils can be a great addition to your baths, morning or night! This is what we call intuitive aromatic bathing – tuning into your body, mind and emotions, and choosing the best essential oils for your bath based on how you are feeling. For example:
Lavender and Patchouli for calming, relaxing and winding-down. A great combo for nighttime baths.
Ylang Ylang for romance, upliftment and sensuality. Ylang Ylang is a great essential oil for baths with a partner.
Geranium for calming and grounding. Geranium Oil in a bath is ideal for women going through menopause or perimenopause.
Rosemary for relieving stress, promoting clarity and soothing tired/ sore muscles. Rosemary Oil is ideal in a bath after a tough day.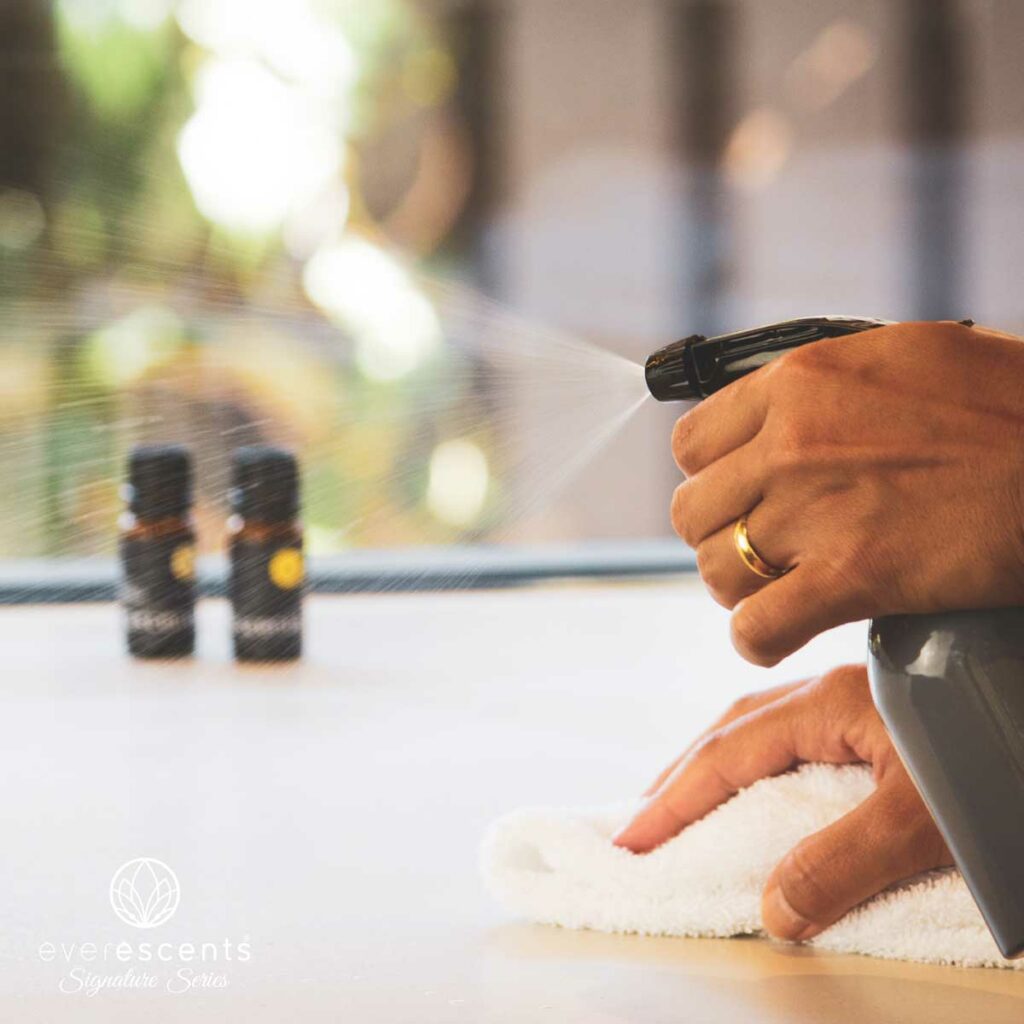 Yes, Essential Oils are fantastic for cleaning!
Lemon Essential Oil is a collective favourite for cleaning. It is antiviral, antibacterial and antifungal. It works really well for all-purpose cleaners for the kitchen and toilets. Other citrus oils can also be used in conjunction with Lemon Oil.
All-purpose cleaner recipe:
3 cups of water
¼ cup of witch hazel
¼ cup of white vinegar
10-15 drops of Lemon Oil
10-15 drops of Lemongrass, Lime or Grapefruit Oil
Peppermint Essential Oil is cool and refreshing, as well as being antibacterial and great for killing gunk around the home.
Glass cleaner recipe:
3 cups of water
¼ cup of witch hazel
¼ cup of white vinegar
20 drops of Peppermint Oil  
Adding Essential Oils to a mop bucket before mopping the floors is very popular too! Your floors will not only be clean, they will smell amazing too.
Essential Oils can also be dropped into the washing machine (powder compartment) for beautiful smelling clothing and linen.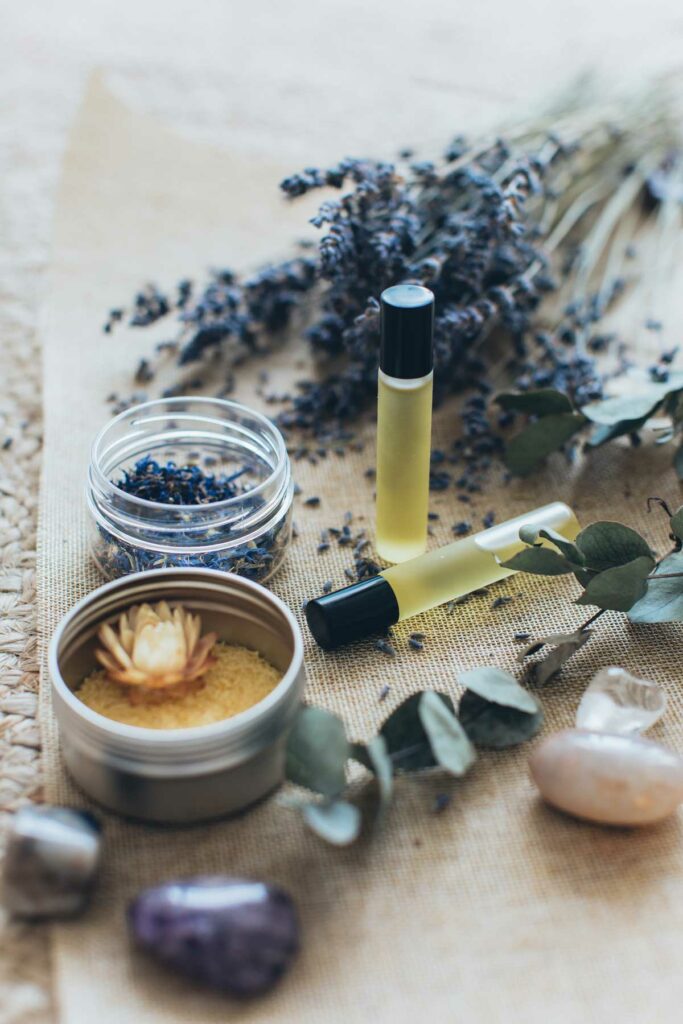 Last but certainly not least, perfume! One of the first ways essential oils were used in ancient cultures.
Did you know that artificial perfumes or colognes can contain over 10,000 different chemicals!  That's 10,000 synthetic chemicals you may be putting onto your skin! Many chemicals found in fragrances are also petroleum-based and extremely harmful to human health.
The good news is that Essential Oils are beautiful perfumes, and our EverEscents Essential Oils are 100% Certified Organic by the ACO, meaning they contain absolutely zero hidden nasties, and zero chemicals were used during the extraction and manufacturing process.
Drop your chosen essential oil / essential oil blend into a carrier oil (Jojoba is recommended as it is unscented) and add this blend to a small glass perfume roller bottle. Simply roll onto your wrists and neck and reapply as needed.
There you have it! Who knew these 10ml bottles could hold so much magic and be used in so many ways! We hope we've offered some guidance and we hope you are now confident to use your EverEscents Essential Oils in abundance around the home!